It all began with that awful business about my mother, Harriet…
Following the dramatic events at the conclusion of THE DEAD IN THEIR VAULTED ARCHES and the shocking revelations about her mother, Flavia de Luce finds herself expelled from the familiar confines of Bishop's Lacey and her beloved family home, Buckshaw, and 'packed off', as she puts it, to Miss Bodycote's Female Academy in Canada. With its forbidding headmistress and bizarre rules, adapting to Miss Bodycote's is quite a challenge. But Flavia is soon on familiar ground, when, on her first night, a mummified body is dislodged from a chimney, and she is presented with a gruesome puzzle to solve.
And the mystery of the withered corpse is only the beginning. Girls have been disappearing from Miss Bodycote's with alarming regularity, leading Flavia to wonder not only how and why, but what exactly is the academy's true purpose, and why were they so keen that she enrol? If Flavia is to avoid the same fate as the missing girls, she must enter a shadowy world where truth and lies seem interchangeable and no one can be trusted. And ultimately she must discover what it means to be her mother's daughter.
Vorab schon mal: die anderen 6 Bände habe ich regelrecht verschlungen. Mit diesem Band tat ich mich doch etwas schwer… Irgendwie kommt Flavia in Kanada nicht wirklich an und ich hatte das ständige Gefühl eines Jet-Lags. Zu viele Figuren werden eingeführt, die Story nimmt erst am Ende richtig Fahrt auf und irgendwie wirkt Flavia blass. In Buckshaw blühte sie immer auf, in Toronto scheint die Figur neben sich zu stehen. Auch das Heimweh kommt nicht wirklich rüber. Die Story an sich ist nicht schlecht, wirkt aber nicht ausgereift. Ein netter Versuch ein neues Setting auszuprobieren, mehr aber auch nicht.
Das neue Element  der Geheimgesellschaft wirkt am Anfang irgendwie auch ganz wirr, als ob der Autor ein paar Agentenfilme zu viel gesehen hätte und das unbedingt in die Handlung einbauen wollte. Es wird aber immer spannender und in sich schlüssiger, auch wenn es ein wenig übertrieben ist und an James Bond erinnert. Gut finde ich aber die starken Frauenfiguren, das findet man ja nicht überall.
Ich bin gespannt, wie sich alles entwickelt und ob Flavia auch in die Fußstapfen ihrer weiblichen Familienangehörigen treten wird. Am spannendsten finde ich die Figur ihrer Lehrerin Miss Bannerman, einer Mörderin und etwas skurrilen Figur. Daraus könnte sich noch viel entwickeln.
Das Buch nicht schlecht, immer wieder gibt es die alten, von mir so geliebten "Flavia"-Momente, doch insgesamt ist Buckshaw wohl doch das bessere Setting für eine de Luce.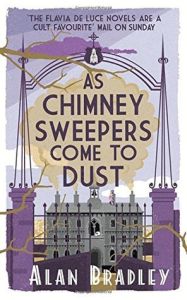 Autor:
Titel:
Seitenzahl:
393 Seiten
Verlag:
Ausgabe:
Hardcover
ISBN:
978-1-409149-43-9