Important things first:
Happy 47th Birthday
Wrath James White
🙂 🙂
The mosh-pits have become a warzone…
The hardcore punk scene in 1980s Philadelphia was legendary, and Mack and Jason were at the center of it all – going to shows and fighting Nazi skinheads. In the streets there is a new gang – the Unrest. They started as a shitty hardcore band but became the center of those filled with hate and rage. The Unrest are here to clean the city of the queers and lesser races…
Fighting is no longer enough for Mack and Jason. Their enemy is becoming too strong and too eager to inflict the worst kinds of pain and death. To get the streets back, they must be willing to go further than ever before-now they must be willing to kill…
From the modern master of hardcore horror, Wrath James White, comes a novel of street-level violence, hardcore punk, and the passion of friendship.
Philly in the '80s:
xenophobia has a name: John Jones, founder of the band "The Unrest" – today one the most violent White-Power-Organisations in the Tri-State-Area.
Little Davey, Skinner and Bo are "Unrest"-members – unscrupulous Neo-Nazis, ready for any kind of violence.
Mack and Jason are afro-americans, living to fight the Skinhead-scum. But mainly they are friends!
The pure hate of both groups against each other grows to a level, escalation brings atrocity to birth – and there's no turning back…
I will not beat around the bush: a book from White with the title Skinzz and such a cover… seriously? I had to get it!
And still I will not pussyfoot around: Wrath James White did not measure up to my expections…
…he overflowed them, upbraided them primitive and donated me one of his best books!
Of course I thought this will be a massacre: a former Kickboxer, afro-american, writes about streetfights and Neo-Nazis?! This will be a bloodbath waiting for, for a long time!
…that's what I thought.
In fact, White created a novel, which's an unicum in the extreme horror scene: a Coming-of-Age-Novel with splatterpunk-parts. Usually I'm not a friend of Coming-of-Age-Novels, but this one… THANK YOU!
Compared to the regular splatterpunk-novels, which are finally aimed to any kind of unbelievable violence, here it's just a minor point. A minor matter, which's not the highlight, but an occurrence and an activator for a reaction. The violence is actually just to clarify the situation, not to entertain…
You go through a (probably known) time of growing up. A time of decisions, mistakes and love. Tears, happiness, pain and friendship – nothing is harder than the real life!
Well, and who knows how many autobiographical moments you can find in this book…
Even I'm a really big fan of Wrath James White, I never ever thought, that he will manage that: Skinzz has touched my soul. A book I must admit, which plucked my heartstrings – I seriously had tears in my eyes.
White did not surprised me – he had overwhelmed me with emotions!
With Skinzz he had wrote one of his best novels and created an unbelievable reference for the genre!
Many thanks to Wrath James White for this unexpected piece and to Deadite Press for the publishing!
…and just by the way: you have the chance to meet very interesting people, when you read a book with such a cover in the german public – OMFG!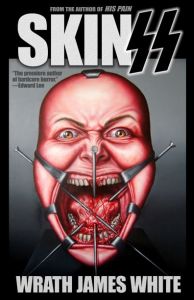 Author:
Title:
Pages:
196 pages
Publisher:
Version:
Paperback
ISBN:
978-1-621051-88-6