Pain. Unbearable pain.
A night of passion becomes a nightmare for corporate headhunter Adam Walters. In Prague for a few days to do business, he makes the most of his time away from home and commitments, indulging his lustful desires.
But when he wakes up hog tied naked on an operating table in a filthy tiled room, he can't begin to imagine the pain that is about to come his way…
 

Adam Walters, a corporate headhunter, is on the road in Prague to meet a potential client. Instead of a client he meets Iva and Martin, a young couple, who want to have a threesome with him …
…for the beginning.
Warren Barns, or The Barns Brothers (Crowley and Warren), are relative new in business: for the moment (unfortunately) there are only two books published; one from Crowley and one from Warren.
By chance, I have been drawn to them, I now wanted to try out a book from them. I started with the novel Headhunter by Warren Barns.
Headhunter is a interesting and pretty good mixture of Tim Miller, Matt Shaw and Monica O'Rourke – in relation to Miller there seems to be a small tribute to Hell, Texas – I like that! You'll find Shaw cause of the darkness Warren knows to transport; O'Rourke cause of this rabbit punches Warren hands out.
You can imagine: with Headhunter Warren Barns has written a book, I really enjoyed (even it's a strange definition for such a novel).
Basically it's not the "classic" extreme-horror – and at the same time, that's exactly what it is: Extreme-Horror!
Instead of betting on blood, guts and obscenities, Warren plays formally with the genre of horror: he locks the reader in a room – and you should know and experience that consciously! He does not lure the reader cautiously, but throw him into the humid darkness, lets the rusty hinges of the door formally roar before he drops them with a loud bang into the angling!
There you sit on the cold concrete, stare at the events through a dirty window and do not dare to look away; even it's just because of pure fear: because as long as it happens in front of this window, it does not happen in this room…
Horror – no Splatterpunk, no extravagant blood-orgies, no excessive violence described down to the smallest detail – Warren Barns has written an unadulterated extreme horror thriller!
He knows the worst weapon, the most disgusting pictures, the most repulsive actions – he knows about the imagination of the reader! And he doesn't stimulate it, he literally penetrates it!
Like I said at the beginning, Headhunter reminds a little bit of Miller, Shaw and O'Rourke… until the end – this could be from Edward Lee, too!
Warren Barns has created an enrichment for the genre with Headhunter – Extreme-Horror, that lives up its name!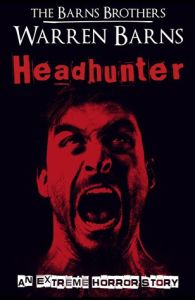 Author:
Title:
Headhunter
Edition:
1. Edition
(2017)
Pages:
124 pages
Publisher:
Version:
Paperback
ISBN:
978-1-547115-43-3