CAUTION: EXTREME HORROR CONTAINED WITHIN
There is bloody violence, gore and sexual content contained within this twisted story. Consider yourself warned.
HOW WRONG COULD IT GO?
CASSIE knew exactly what she was looking for when she trawled the world of mobile dating to find the perfect man for an afternoon of rough, kinky fantasy. She only did this once a year, and this time it was going to be extra special. But, there was just one problem…
RICH thinks he's hit the jackpot when he meets a hot older woman on a dating app. She's gorgeous and doesn't want any long term commitments, just an afternoon of no-strings-attached kinky fun — what could be better? But can he be man enough to tie her up and play the role of aggressor in her dark, twisted and violent fantasy?
BUT NEITHER of them knew that things would all go so terribly, darkly, disturbingly wrong.
DON'T TRUST ANYONE
Although this is an extreme horror book with graphic scenes of a sexual nature and violence, it is also at heart a compelling story beyond its bloody thrills.
For those who like their horror visceral, but with compelling characters and a plot full of twists and turns to match the violence.
The Barns Brothers…
The debut of Warren Barns, Headhunter, I enjoyed already – the more curious I was on the debut of the younger brother, Crowley Barns!
So far in advance: Crowley knows what he's doing…
Cassie's looking for the special kick – the special sex!
Crucial violence to supposed rape – borders are created to cross them!
With Rich she wants to live her fantasies – he should be there at exactly 4:15; not 4:14, not 4:16.
The two have never seen each other; two strangers. And that's the only way, the game can be really good! He should take her, make her to his slave, should use her and give her no mercy – until the agreed Safe Word!
Everything seems to be perfect. Everything seems to run as planned. Everything seems even better, even hotter, even hornier …
… and nothing is as it seems.
Kink starts in the middle of the happening, continues in the beginning and ends in the – what a trip!
You might almost say, that Barns composes a Coming-of-Age novel to a pure essence, adds a healthy dose of psycho-thriller and (extreme) horror, puts everything into a blender and throws it into the readers face (yes, the whole blender!) !
Barns changes (almost) always between the perspectives, allows situations to be experienced twice and at the same time relativizes the supposed truth, good and evil, right and wrong to a conglomerate of neutrality from which grows a new sense of value.
If you're feeling at one moment clearly on the side of Cassie, it is at the next moment already Rich.
Barns, with an almost worrying ease, changes of time and tempo, so that Kink becomes a wild rollercoaster ride, which sometimes invites you to a free fall – extreme horror, which is fun!
Within a short time, you'll find a real pleasure in leading yourself up the garden pat, adapting to the inconstancy of the moment and feverishly looking forward to the next change, the next surprise, the next free fall!
The special thing about Kink is the character development, that Barns gives to his protagonist. Here he's flexing his muscles and manages to create an end, which is not only dirty and ingenious, but also does not have to hide behind the big ones of the scene!
A little criticism may also be:
there are quite occasional lengths, which however do not annoy, but are noticeable, and so slow down the reached tempo very abruptly.
Especially because it's a debut, you shouldn't overestimate that, but it needs to be said.
As I said, this is only a small criticism on the edge, which knows the overall result hardly to cloud!
Crowley Barns has not just published another horror novel with Kink, he modernized the classic horror – a really surprising and extremely entertaining work!
Especially the epilogue deserves attention – I was rarely allowed to read such a brilliant epilogue!
Here the circle closes to this actually cocky presentation of a horror-novel: Barns shows itself as an extroverted, quite humorously person, who loves to write…
…and this can be seen in Kink.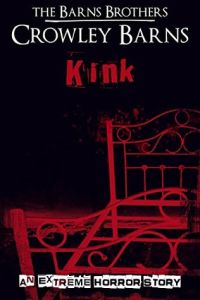 Author:
Title:
Cover:
Warren Barns
Edition:
1. Edition
(September 2017)
Pages:
176 pages
Publisher:
Version:
Paperback
ISBN:
978-1-548667-86-3