Andy and Bridget like to travel. Their windowless van is their home. Speeding across the Texas countryside they pick up hitchhikers and weary travelers who see the pair as a nice couple showing southern hospitality.
However, Andy and Bridget are not what they seem. In their plain looking van, there is no telling which town they will pass through or who will they pick up next.
I will not beat around the bush: is it about merciless, kinky and perverse violence, you have (had?) to deal with Tim Miller!
At least since Hell, Texas he is (for me) one of the top addresses when it comes to agony, torture and ordeal…
…including these typical "Miller-characters".
I suspect Rape Van as a splatter-road movie in book form – maybe with a little kind of Ted Bundy or something like that. What awaited me, finally has something to do with a (or this) Rape Van, but the main focus was on another edge (I really love Miller for his story-in-story-twist-n-turns!).
A few people, a couple with a Rape Van and a common (if you wanna call it that way) fate…
Miller does not hesitate to make clear after the first few pages, that you are moving in his territory!
What Miller depicts once again absolutely ingenious, is the clash of extremes, which he relativized at the same time (but, to be honest, not quite as brilliant as in his 2017 published work Snuff Film).
The "good", the "innocence", the "normality", the "victim", meets the opponent: the "evil" – and however these roles will get occasionally relativized by an involuntary role reversal! (I already told ya, I love this guy, right?)
Miller plays with the hospitality of the southern states and, as so often, questions this entrusted normality; degenerates it, perverts it and makes it bleed!
Rape Van shows up as a wild mix of "Killers" (1996, Mike Mendez), "The Texas Chainsaw Massacre" (2003, Marcus Nispel) and "Frontier(s)" (2007, Xavier Gens) paired with Mallory Knox (Juliette Lewis; "Natural Born Killers", 1994, Oliver Stone) as a minor character – Slasher-feeling in the '90s horror-garb.
Probably you'd like to recognize slight parallels to his 2013 published work Family Night. So as not to reveal too much: Rape Van feels more mature, structured and sophisticated.
Miller created the end relatively open, so you may be looking forward to a sequel …
Rape Van: Texas affability meets Miller's sick mind – hump that familiarness!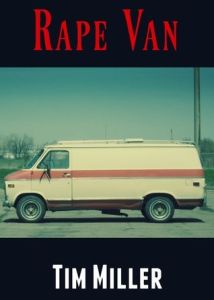 Author:
Title:
Edition:
1. Edition
(2016)
Pages:
228 pages
Publisher:
Selfpublishing
Version:
Paperback
(also available as eBook)
ISBN:
978-1-546750-26-0