In the darkness of an underground cave system, blind crea­tures hunt by sound. Then there is light, there are voices, and they feed… Swarming from their prison, the creatures thrive and destroy. To scream, even to whisper, is to summon death.
Deaf for many years, Ali knows how to live in silence. Now, it is her family's only chance of survival. To leave their home, to shun others, to find a remote haven where they can sit out the plague. But will it ever end? And what kind of world will be left?
Associations can be quite interesting: you see the title of a book, read the blurb and it starts…
That's what happened with The Silence; Tim Lebbons bestseller, which now even will be made into a movie.
Associations.
I heared and read about The Silence and the comparison with Malermans novel Bird Box (Harper Voyager, 2014) – a book I really like.
So I approached The Silence with this association: a work like Bird Box…
…far wrong and so right!
What makes these two books so equal is their difference:
Bird Box lives from the unknown – finally, you could call it modern Gothic Horror. It literally crawls along and takes the reader with it!
The Silence doesn't crawl – rather it rises as an inevitability. Also, it doesn't sweep the reader away, but offers itself (unvarnished); it doesn't just speak out, it prophesies!
Where Bird Box reports about the time afterwards, The Silence tells about the time before… shows (simply) the time itself.
Associations?
If you want to compare The Silence with another work, Schätzings The Swarm (The Swarm. A novel of the deep, Hodder & Stoughton, 2006; OT: Der Schwarm, Kiepenheuer & Witsch, 2004) is actually the better choice.
Instead of the individual horror of which Bird Box is living, The Silence is a collective downfall.
Also you could think of older works of King, but Lebbon diverts the view differently – it's less a sighting, than a focusing, a collecting of the whole, a diffuse reflecting of the continuum.
Tim Lebbon has an unique style, which he exhausts to perfection here.
He fully exploits the shadows of triviality – finds the horrors and (im)possibilities, shows forgetting and repression; but does not shock! No, he doesn't seduce, he doesn't lure, nor does he invite – he merely leaves the door open…
For me, The Silence shines, even it's not my favourite work by Lebbon, by its wholeness: horror, which creates a yawning depth, action, which provides tempo and sadness, which carries the fear in itself.
The Silence – the title could hardly have been chosen more appropriately!
Thus Lebbon shows the (most terrible) facets of silence:
the screaming… the rampage… the hush… the rebellion… the stillness.
Despite all the (supposed) silence you shouldn't be misled here: The Silence doesn't play – Lebbon doesn't grant escape, or in this case more appropriately: the (voluntary) descent into a (or his) fiction, but creates a truth within reality!
Perhaps it's even this balancing of possibilities that gives The Silence this terror.
The idea of introducing each chapter with some kind of news is as simple as ingenious: Lebbon carries the story from fiction into the present; gives a present, without a tomorrow…
The Silence isn't a maelstrom, it's an abyss – but it doesn't present hell, it depicts the morning of us all…
Quiet now!
The Vesps are coming…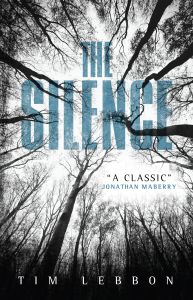 Author:
Title:
Pages:
400 pages
Publisher:
Version:
Paperback
(also available as eBook)
ISBN:
978-1-781168-82-0