IT WAS JUST A CAMPING TRIP
Down by the old Coheelee Creek Cov­ered Bridge, four high school friends only wanted to kick back, smoke some weed and forget about their problems for a day or two. Sure, there were stories that the area was haunted, but there was no way they were true.
IT WAS JUST A LOCAL LEGEND
Decades earlier, an old goat farmer had been murdered by the Klan, hung from a tree near the bridge solely because of the color of his skin. His body was never found. Since then, numerous sightings of a strange creature—half-man and half-goat—had been re­ported in the sur­rounding woods. He was called the Goatman.
IT WAS JUST THE WORST NIGHT OF THEIR LIVES
From the moment they arrived, strange noises echoed around them… a sense that they were being watched pervaded the campsite… and that was just the begin­ning. When one of them vanishes and a horned monstrosity pursues the others, it becomes clear that the legends are real.
…and the truth is so much more horrific than they could ever have imagined.
Woodward himself calls Tamer Animals a mix of "Stand by me" and "Texas Chainsaw Massacre". Newman also talks about Laymon and Ketchum – nothing left to say, right?
Hell no!
It was too much fun not to speak a little bit more 'bout it – and to bring a few more names into the race…
But let's start from scratch – the story…
This could hardly be more inconspicuously, couldn't be depicted more banally – a wonderful unadorned everyday-occurrence, that is just because of that fact so credible and so engaging.
A few teenagers with their own little problems, just want to escape their banality for a short time and spend a great fuckin' time together: no parents, weed – anything else? You're right! Of course the place has to be right, too. And there's no freakin' better place, than the Coheelee Creek Covered Bridge – a place surrounded by a local myth…
But what if a legend grows out of the myth – a legend you eventually become yourself…?
Woodward cleverly uses the beginning of the book to bring his protagonists closer to the reader. Especially the language is absolutely refreshing: cheeky and direct, but without ignoring the individuality of each character.
So you'll find yourself in a Coming-of-Age novel, that, even it doesn't spend the time (and therefore pages), reminds of Joe Hill (I dunno why, but just don't wanna use the name King for the moment): make the apparent triviality unmistakable as an individual characteristic.
Soon, carefully but unmistakably, the horror finds it way into the story – this introduction to the inevitability reminds of Dean Koontz; or even (however – now I have to use his name) Stephen King.
And if you think, you're in the safe place of a (at least implied) Gothic Novel, you suddenly find yourself with an offshoot of the Hewitts and have to think of Ryan C. Thomas again and again.
The ending now turns into a sociocritical drama, which leaves me speechless and disillusioned (I'm still talking 'bout the freakin' best way to do that!).
You know, there're books that're simply fun and Tamer Animals definitely is one of them!
Especially in the genre of Extreme Horror/Splatterpunk, a particular boundlessness quickly leads to a (controlled and of course wanted) massacre…
Woodward knows that.
In the Gothic and/or Horror genre, it's the lurking evil, the unknown, the strange, the shadow that eats, gorges and devours far away from the light…
And Woodward knows this too well – …and ups the ante!
Coming-of-Age becomes Horror, becomes Splatterpunk, becomes Horror-Drama, becomes Drama – just casually, just along the way, just awesome!
What strikes me, was my apperception 'bout the number of pages at the end: 183 pages?
It felt like I have lived through at least 450 pages here (and please understand this in the most positive sense)!
Just to make sure: all the comparisons made at the beginning serve the purpose of better understanding, yes: to point in the right direction. But it's the truly great individuality of Woodward that's to be praised here!
It's this captivating and engaging openness with which he wrote one of my personal reading highlights from 2018 – and won a fan!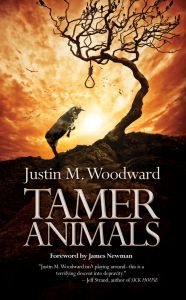 Author:
Title:
Cover-Design:
Edition:
1. Edition
(2018)
Pages:
183 pages
Publisher:
Version:
Paperback
(also available as eBook)
ISBN:
9-781-947522-11-4