Because bad things happen…
When Sophie and Amber leave their college campus and travel across the state in pursuit of love, they find lust instead. Or rather, the lustful, sadistic man they know only as Ben.
Abducted and held within Ben's dirty garage, things rapidly turn grim for Sophie and Amber who are repeatedly tor­tured, raped and abused in horrific ways – physically, mentally and emo­tionally. With an unquenchable thirst for savagery, Ben's brutality increases with each passing day, leaving the poor young women entirely at his mercy. Unfor­tunately for them, his ability to be merciful is about as limited as his supply of morals.
Will Sophie and Amber find a way to escape? Will they survive the deprav­ity? Or will their lives end there in Ben's deplorable man cave?
⚠
⚠
In diesem Buch trifft man
auf explizite Gewaltdarstellungen gegen Babies!
Mit Hillary hat alles angefangen.
Mit ihrer Trilogie um Hillary Greyson (Teil 1: Die Geschichte der Hillary, Festa Verlag, 2018; OT: Hillary: Tail of the Dog, selfpublishing, 2013; Teil 2: Hillary: Flesh and Blood, selfpublishing, 2013; Teil 3: Hillary: Retribution, selfpublishing, 2013) hat Angel Gelique mich sofort als Fan gewonnen – hat sie doch jenseits ethischer Fesseln eine Blutrache erschaffen, wie sie ehrlicher und unerbittlicher kaum hätte sein könnte (und diese kleine Prise Edward Lee tat ihr übriges).
Beim stöbern entdecke ich dann zufällig ihr bis dato neustes Werk: Man Cave.
Neues Buch von dieser liebgewonnenen Autorin? Muss natürlich her!
Der Plot ist recht einfach gehalten – nicht aber schnöde; hier sei Max Cavalera (wenngleich nicht mit
Sepultura
, sondern
Soulfly
) zitiert:
Back to the primitive
Ein sadistisches Schwein, zwei Frauen und eine Garage – manchmal braucht es tatsächlich nicht mehr…
Was viele versuchen und so gerne wollen, schafft Angel mal eben direkt auf der ersten Seite: den Leser packen, ihm das Feindbild präsentieren, welches er nun über die nächsten mehr als 400 Seiten verfluchen wird – Gefühl, Emotion und Erwartung wecken, anspornen und mit allem füttern, was es zu diesem Zeitpunkt braucht!
Perspektivenwechsel? Gelungen!
Statt einem neofeministischen Abklatsch maskuliner Antipathie (wie es mir in einem gewissen anderen Buch leider begegnet ist), zeigt sich hier die durchaus anspruchslose, doch eben genau dadurch realistisch gelebte Aversion eines chauvinistischen Sadisten – wahre Abscheu zeigt ihre Widerwärtigkeit in der (so erschreckenden) Einfachheit.
So brilliert Angel Gelique nicht durch literarische Finesse – sie betört, reißt, spuckt, umschmeichelt und verstört mit Natürlichkeit, ungeschminkter Möglichkeit, denkbarer Option, greifbarer Nähe (es darf bisweilen gerne an J.F. Gonzalez gedacht werden).
Man Cave überrascht nicht – will nicht überraschen oder verwirren! Genau genommen will es gar nichts… es tut es einfach!
Hier geht es nicht um Innovation oder Kreativität – hier geht es um rohen, verkommenen Splatterpunk!
Kein Superlativismus, sondern Grenzüberschreitung!
Keine Revolution, sondern Primitivisierung!
Angel Gelique hat hier verdammten Death Metal geschrieben: es beginnt mit den zermalmenden Gitarren-Riffs von Bolt Thrower, alsbald untermalt Glen Bentons Bass die Gitarrenfront und schließlich zerfetzen Napalm Deaths Double-Bass-Attacken auch den letzten als sicher geglaubten Unterschlupf!
Where she goes, others can only follow!
Auch stilistisch geht sie einen Schritt, den man durchaus als Wagnis wahrnehmen kann; sie schreibt aus zwei unterschiedlichen Perspektiven:
wählt sie für Ben die Ich-Perspektive, wechselt sie für Amber und Skye zum Erzähler.
Interessant ist neben der Selbstverständlichkeit, mit der ich diese Wechsel lesen konnte, die (indirekte) Nähe, die Angel Gelique so zu Amber (aber eben auch Ben) aufbaut.
Da die Perspektive nun durchgehend auf den Opfern gehalten wird, schafft Angel eine durchgehende Penetration der Erträglichkeit.
Ich durchlebe nicht, ich erlebe – Angel schenkt mir nicht die Flucht in die Wahrnehmung ihrer Protagonisten, sie lässt mich nicht teilhaben – sie lässt mich teilnehmen; lässt mich selbst zur unabdingbaren Notwendigkeit werden, lässt mich zur Konsequenz, zur Bedingung und Ursache werden, bis nichts mehr bleibt, sondern alles genommen wurde…: Hope…is…dead.
Wem der zweite Teil um Hillary Greyson gefallen hat, sollte sich in der "Männerhöhle" sehr wohl fühlen – Man Cave liest sich wie Hillary: Flesh and Blood auf Crack!
Ruth (Jack Ketchum – Evil, Heyne Verlag, 2005; OT: The Girl next Door, Warner Books, 1989) bekommt ein Y-Chromosom, findet sich in Snuff Killers (J.F. Gonzalez, Festa Verlag, 2016; OT: Survivor, Midnight Library, 2004) wieder, wird mit der (emotionalen) Brutalität von Der Sommer, als ich starb (Ryan C. Thomas, Festa Verlag, 2016; OT: The Summer I died, Coscom Entertainment, 2009) angereichert und mit den bildlichen Details von Tim Miller ausgeschmückt.
Einmal wieder hat Angel Gelique die Grenzen der Widerwärtigkeit ausgelotet und ausgiebig von jenseits dieser Schranken berichtet. Es ist beinahe schon erschreckend, was diese Frau immer wieder auf die Menschheit loslässt!
Splatterpunk? Das ist nicht einfach nur Splatterpunk. Das ist Splatter-Terror-Punk!
Alle Schranken sind bloß des Übersteigens wegen da.
Novalis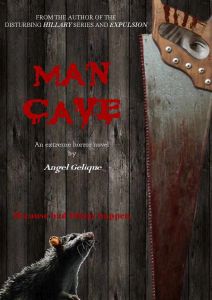 Autor:
Titel:
Man Cave
Seiten:
455 Seiten
Publisher:
CreateSpace Independent Publishing Platform
Ausgabe:
Taschenbuch
(auch als eBook erhältlich)
ISBN:
978-1-723545-48-1