Because bad things happen…
When Sophie and Amber leave their college campus and travel across the state in pursuit of love, they find lust instead. Or rather, the lustful, sadistic man they know only as Ben.
Abducted and held within Ben's dirty garage, things rapidly turn grim for Sophie and Amber who are repeatedly tor­tured, raped and abused in horrific ways – physically, mentally and emo­tionally. With an unquenchable thirst for savagery, Ben's brutality increases with each passing day, leaving the poor young women entirely at his mercy. Unfor­tunately for them, his ability to be merciful is about as limited as his supply of morals.
Will Sophie and Amber find a way to escape? Will they survive the deprav­ity? Or will their lives end there in Ben's deplorable man cave?
⚠
⚠
In this book you'll get confronted with
explicit violence against babies!
It all began with Hillary…
With her trilogy about Hillary Greyson (Book 1: Hillary: Tail of the Dog, selfpublishing, 2013; Book 2: Hillary: Flesh and Blood, selfpublishing, 2013; Book 3: Hillary: Retribution, selfpublishing, 2013) Angel Gelique immediately won me as a fan – she created a blood revenge beyond ethical bonds, which could hardly have been more honest and relentless (and this little pinch Edward Lee did the rest).
What ever – While browsing I discovered her latest work: Man Cave.
New book from this beloved author? I have to have this!
The plot is quite simple – but not dull; let me explain it with a quote from Max Cavalera (even though not with
Sepultura
, but
Soulfly
):
Back to the primitive
A sadistic scumbag, two women and a garage – sometimes it just doesn't need any more…
What many people try and would like so much, Angel creates directly on the first page: to grab the reader, to present the enemy image, you'll curse over the next more than 400 pages – arouse sensation, emotion and expectation, stimulate and feed it with everything it needs at this time!
Change of perspective? Job well done!
Instead of a neo-feminist copy of masculine antipathy (as I was confronted with in an other book unfortunately), here the quite undemanding, but exactly thereby realistically lived aversion of a chauvinistic sadist shows up – true disgust shows its repulsiveness in the (so frightening) simplicity.
Thus Angel Gelique does not shine with literary finesse – she bewitches, tears, spits, caresses and disturbs with naturalness, unvarnished possibility, conceivable option, tangible closeness (you may sometimes think of J.F. Gonzalez).
Man Cave does not surprise – does not want to surprise or confuse! Strictly speaking will it nothing at all… it just does!
This is not about innovation or creativity – this is about raw, degenerate Splatterpunk!
No superlativism, but crossing borders!
No revolution, but primitivization!
With Man Cave Angel Gelique has written Death Metal: it starts with the crushing guitar riffs of Bolt Thrower, soon accompanied by Glen Bentons Bass and finally Napalm Deaths Double-Bass-attacks tear the last safe haven up!
Where she goes, others can only follow!
Also stylistically she takes a step that can be seen as a risk; she writes from two different perspectives:
for Ben she chooses the ego-perspective and changes to the narrator for Amber and Skye.
Interesting for me, apart the fact, I could read these changes as a matter of course, is the (indirect) closeness Angel Gelique builds to Amber (but also to Ben).
Since the perspective is now held continuously on the victims, Angel creates a continuous penetration of endurability.
I do not just live through the happenings, but experience this (ultimately) act of god – Angel doesn't gift me the escape into the perception of her protagonists, she doesn't let me partake – she lets me participate; lets myself become an indispensable necessity, lets me become a consequence, a requirement and a source until nothing remains, but everything has been taken…: Hope…is…dead.
I really enjoyed the Hillary-trilogy. This is like Hillary: Flesh and Blood (the second book of the trilogy) on crack!
Take Ruth (Jack Ketchum – The Girl next Door, Warner Books, 1989) with a Y-chromosom, mix it with Survivor (J.F. Gonzalez, Midnight Library, 2004), let the (emotional) brutality of The Summer I died (Ryan C. Thomas, Coscom Entertainment, 2009) comes over it with the graphic details of Tim Miller.
Remember my warning at the beginning: if you do have problems with visceral violence against children, DO NOT READ IT!
Once again, Angel Gelique has explored the limits of repulsiveness and reported extensively from beyond these frontiers. It's almost frightening what this woman lets loose on humanity again and again!
Splatterpunk? This is not just Splatterpunk. That's Splatter-Terror-Punk!
All barriers are simply there in order to be crossed.
Novalis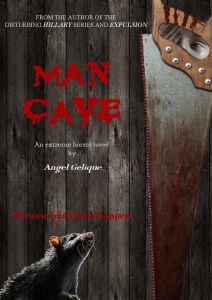 Author:
Title:
Man Cave
Pages:
455 pages
Publisher:
CreateSpace Independent Publishing Platform
Edition:
Paperback
(also available as eBook)
ISBN:
978-1-723545-48-1