Life can be Hell. Gloria is an aging porno actress, failed wife and mother, and drug-addict, when she gets the opportunity to do yet another degrading gig. But when it gets way out of hand and the wreck of a human being finds herself in Hell, the real trials for Gloria are to begin.
Cursed to an eternity of suffering and torture, she will do anything to get out of the Pit. Even if it means taking it over…
Monica J. O'Rourke, my little Terror-Queen and Wrath James White, the heavyweight-Bloodgod, together write a book about hell…
Who's thinking, that this will be a vile venture is wrong: what these guys brought to paper, left "vile" way behind!
It simply rapes "vile", devours it with the thousand maws of Legion, just to spit it out again while digestion, to skin it, burn it, degrade it, cut it, to rape and torture the individual pieces again, set it together and start from the beginning, to all eternity…
The book is split in two chapters:
the first chapter deals with the original life of Gloria on earth and her way (in)to hell, the second chapter deals with her way through hell.
In the first chapter O'Rourke and White confront the reader with Glorias life – once one of the stars in the porno-scene, now just a ruined, drug addicted and HIV-infected whore who makes their money with obnoxious animal pornos.
Until she meets Vlad one day, who makes her offers, Gloria can't deny – but everything has its price…
The second chapter, without betray to much, deals with Glorias way through hell – even her own…
Poisoning Eros is a gut-wringing, obscene hardestcore hell-blood-porno, which's bringing hell not closer to the reader, but lets him experience it – lets him live through hell!
In a sea of guts and feces you're threaten to drown in the agonizing cries of the skinned imagination, taste the tears of fire and blood, which eat themselves gently through the open meat, persist in the helplessness of ever new perverting curiosity, just to follow the will of the goddess, to welcome the next page in devoted fear and to sink into new darkness at once…
The mixture of O'Rourke and White is perfect – O'Rourkes terror mates with Whites worlds of blood!
In addition to all the blood, violence, intestines, torment, flesh, obscenity, perversion, innocence, pain, sodomia and hopelessness hides, barely perceptibly (but only "barely"), a humanity, that has found its way into today. O'Rourke and White do not bring hell on earth, but manifest it in the everyday life of our actions.
They do not seem to create any kind of hell – they seem to report directly from her!
Poisoning Eros is one of these books, showing their true potential with the end.
Nevertheless the abysmal worlds of thoughts, which sometimes threatens to devour the reader, remains an accumulation of morbid images, which are constantly increasing – the end shows, that you just walked the way you have to pass – the duty, which was to be mastered. From a concentration of perverted obscenity, the confrontation of helpless surrender forms itself towards the finality.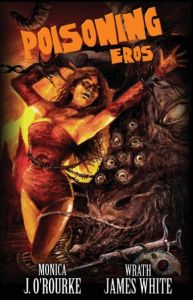 Authors:
Title:
Artwork:
Glenn Chadbourne
Pages:
232 pages
Publisher:
Version:
Paperback
(also available as eBook)
ISBN:
978-1-621050-95-7