In November 1994, one of history's most diabolical serial-killers is beaten to death by another inmate in the prison where he was serving fifteen consecutive life sentences. Jeffrey Dahmer is dead. Or is he? Two weeks after the madman's body is buried, another cannibalistic murder spree begins. Fingerprints, DNA, and modus operandi all link Dahmer to the hideous crimes. Homicide cop Helen Closs is certain it's all a hoax or a clever copycat…until the night her own phone rings, and Jeffrey Dahmer himself begins to speak… Dahmer's Not Dead is the latest collaborative effort by acclaimed horror novelist Edward Lee and serial-killer expert Elizabeth Steffen. Don't expect the same explicit hardcore horror that Edward Lee is so well-known for. Instead, Dahmer's Not Dead is a brilliant and technically accurate police-procedural thriller on par with the best crime novelists working today.
Dahmer's not dead is one of these books, I wasn't sure why, but I've devoured it.
You read, you're fascinated, wanna know what's happening next, but in the moment you're trying to understand why you can't get away from this book, in the moment, you're trying to desperately grab the particularity and wanna give it a name…
…well, nothing!
Actually there is nothing special, actually there is nothing extraordinary – and you just read on.
You finished the book, close it, think about it, wants to write a review and feel confronted by the question: "what the hell was so special? And how should I write a review, without knowing, why I was so fascinated?!"
So, lets start to compare some thrillers. Where are the differences, where are the extraordinaries. Why this book feels so different compared to other psycho-thrillers?
And exactly here's this special thing about Dahmer's not dead – it's not a regular psycho-thriller, but an incredibly balanced and ingenious mixture of (psycho)-thriller, fact-based-novel and horror-novel.
Edward Lee, the master of obscenity, writes a book with Elizabeth Steffen, an expert for serial-killers, about Jeffrey Dahmer?! Be serious: that's awesome as fuck! How bloody, perverse, repulsive, disturbing and sick will it be?!
So far in advance: not at all! And that's what makes it so awesome!
Even the backcover warns, that this is not an ordinary novel by Lee, but what Lee and Steffen have finally created, actually exceeded my expectations.
Lee and Steffen does not simply complement one another, but form a unity (doesn't that sound morbid in connection with Lee?!).
They do not implement the readers, but offers them a well-cushioned chair and table directly on the scene.
Especially at the beginning of the book you hold a little Simon Beckett (a little bit anthropology) in your hands – with a pinch of Cody McFadyen (female main character and the steady gray cloud above the reader) and Chris Carter (clear hard american style).
The whole thing gets special by the unmistakable, but absolutely unusual, style of Lee, which you'll always find between the lines. And with Elizabeth Steffen, Lee has not only brought a serial killer expert on board, but also a very good author!
The mixture of different novel-types, like I mentioned at the beginning, provides a broad front for the reader – this is paired with an ingenious poly-perspective and the intelligent research of the authors:
the thriller-part draws like a damp blood trail through the whole book; the psycho-thriller-part thrives on the character-development of Helen; the fact-based-part is shown in the true story of Jeffrey Dahmer and the horror-part mutates formally from the intrigues of the psycho-thriller.
That's how Dahmer's not dead lets experience the reader different phases and through the poly-perspective several characters, just as it gives the reader the runaround.
Even if the end of the book isn't as good as the rest of it, it is an extraordinary, unusual and really perfectly researched thriller!
Lee and Steffen doesn't just wrote a thriller – in fact you can enjoy a movie on 236 pages.
A small blockbuster as a book.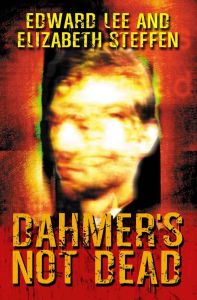 Author:
Title:
Pages:
248 pages
Publisher:
Edition:
Paperback
ISBN:
978-1-463596-26-2