Emily is on a crusade to advance the cause of women's rights.
She writes a controversial and incindiary blog called The Radical Feminist where she challenges the male power structure that has oppressed generations of women, tackling issues of equal pay, reproductive rights, and the pervasive culture of rape.
Every day she receives dozens of death and rape threats.
She has learned to ignore them as little more than the impotent tantrums of weak men, terrified of losing their place of privilege and power…
Until one night they show up on her doorstep.
107 pages aren't really that much.
107 pages of Wrath James White promises a massacre.
107 pages of Matt Shaw promises a psychologically rape.
107 pages of Wrath James White and Matt Shaw carve inexorably into the convolution of your brain and leave a smile in your face, as it is worthy of a psychopath – or just a ladies' man…
Like I said Boys' Night is a novella – little time to build a story or to give the characters a development…
…how wrong can one be!
Finally we're not talking about any backwoods-authors, but two masters of (modern) Horror/Splatterpunk!
To throw the reader such a story with such a character development with just 107 pages in the face – I swear to Lee (here representing for "God"), there are only a few able to: two of them are White and Shaw!
You read a lot of White and feel a lot of Shaw – a terrific mix, which I definitely want more often from now on!
White's character-buildup and brutality meets Shaw's character- and story-development – evil, dirty, merciless and raw.
Boys' Night reminded me a little bit of Mike Mendez' awesome movie-debut Killers: expect the unexpected… and straight in your face, SOAB!
Well, prisoners being taken, but not with the intention of ever letting them go again!
The end balances on a razor blade: on the one side the (sentimental) schlock grows on, on the other side rots the triviality.
If the story took too much drive, it would be cut, too slow, it would be dissected by its own weight.
And what at first seems like a wobbly balancing act, finally shows up as a planned ride on rails – and even a certain (spiteful) wink finds its place!
Also, my concern that one of the authors, as unfortunately too often in a cooperation, get lost, was not confirmed. Instead, these two masters of horror complement, potentiate, actually complete their skills into a campaign of vengeance of unforeseeable consequences – or like Dave Mustaine sang:
My thinking is derailed
I'm tied up to the tracks
The Train of Consequences
There ain't no turning back
(Megadeth: Youthanasia – Train of Consequences)
For genre-beginners a nice way to get familiar to both authors (to more or less equal parts) on the one hand, on the other hand, it's to handle with crae, because 107 pages do not give much room to breathe…
…and for this Boys' Night, you need some stamina.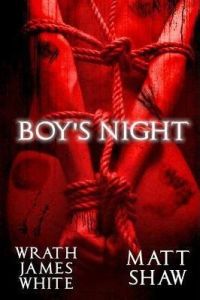 Authors:
Title:
Edition:
1. Edition
(2017)
Pages:
118 pages
Publisher:
Version:
Paperback
(also available as eBook)
ISBN:
978-1-548132-68-2